Laugh it Up with Girl Time
03/11/2013 04:18PM ● By Anonymous
Laughter and friendship go hand-in-hand, and according to a recent survey, women across America are looking to inject more laughter into their lives this year. One sure bet, spending more quality time with their girlfriends.
The survey, commissioned by Skinny Cow Candy, showed that on average, women are twice as likely to prefer a good laugh with their girlfriends over a new piece of jewelry, a manicure, or even a new pair of shoes. And while a good phone chat with a dear friend goes a long way, 61 percent of women believe that an in-person laugh is better than a virtual one.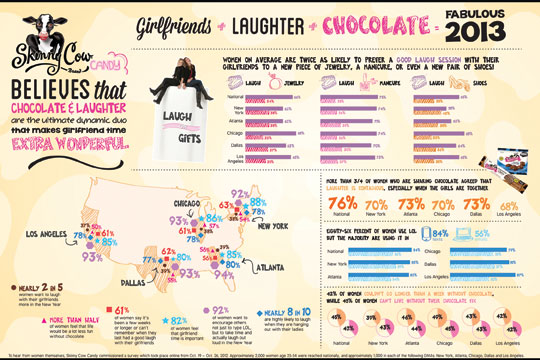 Read on for some inspiration to create that treasured girlfriend time and start Laughing Out Loud.
Set the stage. Quality girlfriend time can happen anywhere at any time. Getting together for drinks or dinner creates an opportunity for plenty of intimate chatting and laughter for hours on end. Heading to a local movie theater or piling on the couch to watch a comedy favorite is just the ticket for a much-needed belly laugh.
Eliminate distractions. Good girlfriend time means letting your cares slip away. Leave the kids with a sitter, avoid taking calls or texting, and dedicate your time to catching up and sharing a few good laughs.
Add chocolate. According to the Skinny Cow survey, the majority of women think life would be a lot less fun without chocolate, so make sure you have some on hand. Skinny Cow Candy makes the no guilt kind – rich, creamy and delicious; great portion sizes; and low in calories. Yes, you really can have it all.
Stay within your means. Time spent with the girls need not break the bank. If budget is a concern, choose a restaurant or bar with happy hour specials, or have everyone bring a little something and cook together. Check out interesting events around town, or tie on athletic shoes and enjoy a fun-filled walk in the park.
Say cheese. Don't forget to take photos to capture your laugh-out-loud moments; they make for great memories. Post them on your social media pages and share your good times for years to come.
Want to find out how you compare to women across the country on topics such as laughter, chocolate and more? Visit www.facebook.com/TheSkinnyCowUS and find out what theLOL-O-Meter says about you, then share and compare with your girlfriends for a memorable good time.
Main photo courtesy of Getty Images