From Canada to Cape Cod by Bicycle
06/13/2013 08:24PM ● By Ryan Frisch
You CAN make a difference
An energetic bicyclist. An eight-year-old boy from Stowe who wants nothing more than to be a normal kid. A flock of pink flamingos. This is not random word association; it's the story of Ed McGovern, Christopher Grimes, and an event called the Can-Mass ride.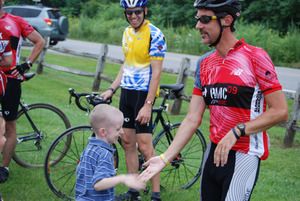 "If you think riding a bike a few hundred miles is hard, think again," says McGovern. He knows what hard is. Cancer is hard. Cancer has affected his life—not attacking him personally, but instead striking loved ones. His mother is a breast cancer survivor, and cancer claimed the life of a cousin. Four years ago, his nephew, Christopher Grimes, then four years old, was diagnosed with a rare form of cancer that attacks the nervous system of young children.
The bike ride is the easy part
The Pan-Mass Challenge is a well-known and challenging fundraiser for cancer research. The easiest part is bicycling nearly 200 miles across the state of Massachusetts to the tip of Cape Cod. More difficult is the fundraising aspect; each participating rider commits to raising $4,300, all of which benefits the Dana-Farber Cancer Institute. Entering its 33rd year, the event has raised $375 million for cancer research. This year, McGovern will participate in his 18th Pan-Mass Challenge.  
When Christopher was diagnosed with stage 4 neuroblastoma, his parents, CJ and Kristin, owners of the Stowehof Inn in Stowe, immediately uprooted their family of five and moved to Boston where Christopher could have access to the best care. Although there is no cure for neuroblastoma, Christopher endured many rounds of chemotherapy, two stem cell transplants, twenty rounds of radiation, and six months of antibody therapy in intensive care units. After two years, however, the efforts paid off; all traces of the disease had disappeared from Christopher's body, and the family happily moved back to Stowe.
Until the fall of 2012. After 22 months of NED status (that is, No Evidence of Disease), Christopher suffered a relapse. Now Christopher and his parents are working with Dr. Giselle Sholler (formerly of Fletcher-Allen Healthcare) of the Van Andel Research Institute at De Vos Hospital in Grand Rapids, Michigan, who with other leading experts is working on cutting-edge treatments for neuroblastoma patients.
Pan-Mass plus Can-Mass
Traveling back and forth to Michigan, the Grimes family has put its faith in the research of Dr. Sholler and others who are developing treatments and drugs that might give their son his best chance for survival. Currently there is no cure for relapsed neuroblastoma patients. And because neuroblastoma is a lesser-known cancer, one roadblock to finding the cure is funding.
Enter Ed McGovern, who had already distinguished himself as a fundraising machine through his years of participation in the Pan-Mass Challenge. But in light of his nephew's situation, McGovern knew it wasn't enough. "You feel powerless," he says. "I wondered what I could do."
McGovern, an avid Stowe skier for 15 years, wanted a Vermont connection, he wanted to help Christopher's cause, and he wanted to do something crazy. He came up with the idea of adding more than the length of Vermont—300 miles—to an already arduous Pan-Mass route. He contacted five Pan-Mass friends—Mark Rayfield, Peter Murphy, Mark Canning, Sam Butcher, and Dave Platt—who joined him without hesitation.
In August 2010, the six riders, with McGovern's wife Janice and daughter Lily driving a support van, embarked on the first "Can-Mass" ride. They placed their rear wheels on the Vermont-Canada border in Alburgh and pedaled the length of Vermont and some of southern New Hampshire in two days, meeting riders for the start of the Pan-Mass Challenge on the third day.
Most importantly, in three years they have raised over $50,000 for neuroblastoma research—and that's on top of their Pan-Mass fundraising efforts. This year's Can-Mass proceeds will directly fund Dr. Sholler's research. "We're not doing it just to bring awareness to this disease," says McGovern. "We're trying to save this kid's life."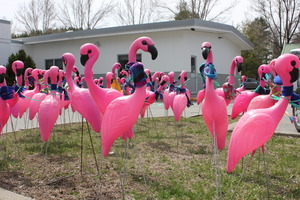 Pink flamingos
When the Grimes family originally moved back from Boston, 30 bright-pink plastic flamingos appeared on their front lawn. On one of the flamingos hung a note: "We are Christopher's flock."
It's one of the great mysteries of Stowe. "Someone started it; we don't know who," says Kristin Grimes.
As quickly as the birds appeared, they were gone, reappearing in front of a local Stowe business. That business displayed them for a while and passed them on. Then another, and another. Christopher's flock has appeared in front of Ye Olde England Inne, the Stowe Reporter, the Stowe Community Church, Frida's, the Blue Moon Café, FixPC, the Commodores Inn, the Stowe Police Department, and the Ski Patrol hut atop the Forerunner Quad, among other locations. When vandals stole the flock, the Stowe Reporter ran an article explaining Christopher's story and what the flock represented. It reappeared.
Shortly thereafter, a routine scan (something that will remain a part of life for every stage 4 cancer patient) showed that Christopher had suffered a relapse. This was devastating news for a family who had hoped their difficulties were behind them. But they found supportive friends and family; five of Christopher's eight-year-old friends at school shaved their heads to show that "bald is cool." Teachers at school brought the flock of flamingos to Stowe Elementary where they held a "Buy a Flamingo" fundraiser to support Dr. Sholler's research.
And Ed McGovern put his plans for the fourth annual Can-Mass ride into high gear—only this year, he and his team of riders will have something unprecedented in the sport of cycling: a flamingo-lined course. Kristin Grimes plans to line the Vermont section of the Can-Mass route with the flamingos, currently numbering in the hundreds.
"This support means everything to our family," says Grimes who, many would say, is up against the impossible. "But there are people who believe in the impossible," she says. "And with the studies going on out there, this can be possible not just for us, but for so many other children as well."
Ed McGovern and his teammates will start their Can-Mass ride through Vermont on August 1. They will arrive in Massachusetts on August 2 and start the Pan-Mass Challenge on August 3. For more on the Can-Mass ride, go to CanMass.com.
To learn about the Pan-Mass Challenge go to pmc.org.
Kristin Grimes' blog is caringbridge.org/visit/christophergrimes.
by Mark Aiken
About the Author:
Mark Aiken is a freelance writer who lives in Richmond, Vermont, and supervises in the Ski & Snowboard School at Stowe Mountain Resort, where he met the Grimes family. A marathoner and triathlete, Mark finished a minute behind Ed McGovern, organizer of the Can-Mass Challenge, in a half-ironman last summer.