Elevate Summer Grilling with Giant Flavor
08/20/2018 04:31AM ● By Family Features
Sponsored Content
Weekend barbecues, birthday celebrations and family reunions are in full swing, so up your grill game from basic to bold with a few ideas to leave your guests wanting more.
Step outside your comfort zone and create some "wow-worthy" dishes with big flavors with these recipes from McCormick and chef Roger Mooking from Cooking Channel's "Man, Fire, Food."
Get started with these ideas:
Once ribs are grilled until tender, use a sharp knife to carefully slit skin on the back of each rib for easier bone removal.
Make a giant cheese-stuffed burger by lining a 9-inch round cake pan with foil. Add in half of the ground beef followed by a cheese layer. Top with remaining ground beef and shake on seasoning for maximum flavor.  
Brine pork chops in the refrigerator for 8-10 hours before grilling to infuse with flavor and help make tender and juicy. Top with caramelized apples cooked in a cast-iron skillet.
Find more summer recipes at tips at GrillYourBest.com.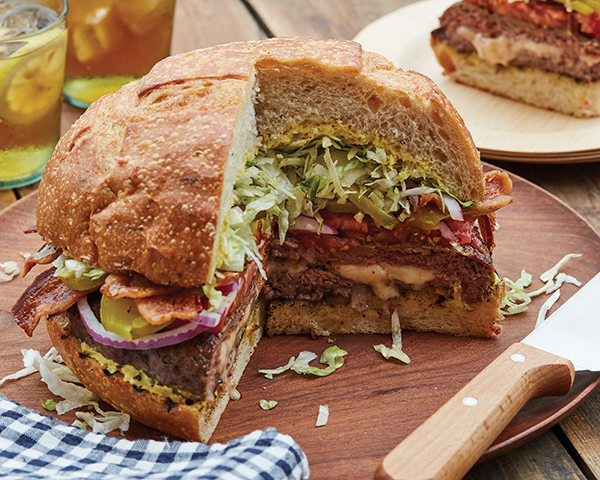 Giant Bacon-Cheddar Juicy Lucy Burger
Servings: 8
2          tablespoons McCormick Grill Mates Montreal Steak Seasoning, divided
2          pounds 80 percent lean ground beef
8          ounces sliced medium or sharp white cheddar cheese
1/4       cup mayonnaise
1/4       cup yellow mustard
8          long pickle slices, plus 2 tablespoons brine
1          round loaf soft bread (10 inches), cut in half horizontally
olive oil
sea salt
freshly ground black pepper
1          large heirloom tomato, thinly sliced
1          small red onion, thinly sliced
8          slices bacon, cooked
2          cups shredded iceberg lettuce
Line 9-inch round cake pan with aluminum foil, leaving extra foil over edges of pan. Sprinkle with 2 teaspoons steak seasoning. Press half of ground beef into cake pan. Layer cheese in middle, leaving 1/2-1-inch border around sides. Sprinkle with additional 2 teaspoons seasoning. Top with remaining ground beef in even layer and press to seal in cheese. Sprinkle with remaining seasoning.
Lift burger from cake pan using foil. Press to flatten to about 11 inches in diameter. Refrigerate until ready to cook. (Patty can be assembled up to 2 hours in advance.)
In small bowl, whisk mayonnaise, mustard and pickle brine until smooth. Cover and refrigerate.
Remove most of soft insides from top of bread to make hollow. Reserve insides.
Prepare grill for indirect medium heat at about 350° F.
Brush grill grates with oil. Hold burger on foil bottom and flip onto indirect-heat side of grill; peel off foil. Cook until sides of burger are cooked and it feels firm when lifted with spatula, about 8-10 minutes. Using two spatulas, carefully flip burger. Close grill and cook until burger is cooked through and cheese is melted, about 5-8 minutes longer. Move to direct-heat side of grill for 1-2 minutes per side for more char.
Brush cut sides of bread with olive oil and sprinkle with salt and pepper. Grill on direct-heat side of grill until bread is toasted and grill marks appear, about 3 minutes.
Place bottom half of bread on large cutting board. Spread with half of mustard sauce. Place burger on top and top with tomatoes, onions, pickles and bacon. Spread top of bread with remaining mustard sauce and fill with lettuce. Place top of bun on burger and cut into eight wedges.